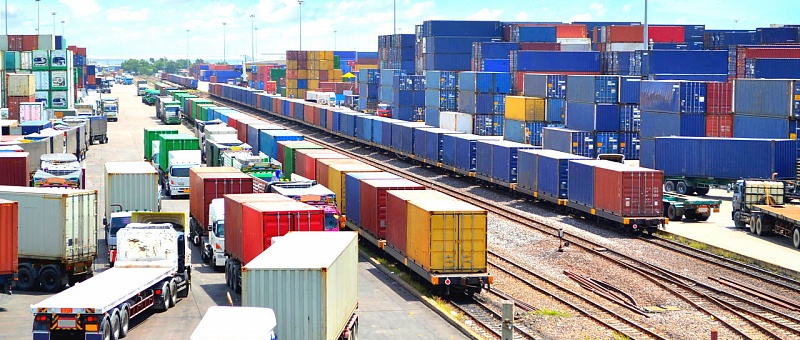 Railway shipments
North-South Forwarding Company Ltd provides a full range of services for the organization of domestic and international rail transport of any, including hazardous goods, almost by all types of trains.
Advantages of cargo shipment by rail.
Well-organized cargo shipment by rail is characterized by the optimal ratio of reliability, speed and cost of delivery.
Due to the wide network of Russian Railways and high regularity of transportation, any volume of cargo, heavy and over-sized cargoes may be quickly transported by railway rolling stock to long distances at relatively low transportation costs (the price of railway transportation is several times lower than road and, especially, air cargo delivery at the same distance).
Railway shipment does not depend on climatic and weather conditions: the train can move in poor visibility, snow, sand storms and other adverse conditions.
The use of sealed closed wagons and containers significantly increases the reliability of delivery and minimizes the risk of theft.
Advantageous rail freight provided by North-South Forwarding Company Ltd:
We can organize railway shipment at an advantageous price to any railway station or "door to door" to the warehouse of the consignee in any corner of the world;

Experienced staff, in practice familiar with the peculiarities of shipment of containers, over - sized, heavy, hazardous and other categorical cargoes by railway transport;

The best route of railway shipment for the fastest and most affordable delivery might be offered.

Optimizing of terms and cost of cargo shipment by rail and other modes of transport within the framework of multimodal transportation services.

Access to a large fleet of rail containers: 20DV, 20 HT, 40 DV, 40HC, FR.

Selection of container or wagon in full accordance with the kind of the cargo, its parameters and packaging;

Assistance in preparation of supporting documents for railway shipment of containers and other goods from Yekaterinburg to any points in Russia and abroad;

Advantageous prices for railway shipments within Russia and abroad.

Assistance in export, import and transit customs clearance.

Convenient mechanism for tracking the movement of the delivered cargo and SMS-informing about its status.

Additional service: the possibility of consolidation of LCL cargoes, insurance services, certification, packaging, labeling, protection and maintenance of cargo, loading and unloading operations using modern loading vehicles (cranes, manipulators, etc.).
To order cargo shipment in Russia and other countries by rail transport at an advantageous cost, please contact the managers of North-South Forwarding Company Ltd.